J'anime un atelier lors de l'événement Play the Pain à l'Université Concordia qui convie à un espace d'explorations pratiques et créatives autour du projet de recherche de Naj Mahani, qui réunit des chercheurs interdisciplinaires, des artistes, des thérapeutes et les savoirs citoyens. Play the Pain cherche à mettre en lumière les liens entre culture et soin de la douleur, en cherchant à mieux renseigner les sciences de la santé sur l'impact d'activités culturelles, sociales ou physiques sur le traitement de la douleur. Une très belle occasion pour la recherche-création!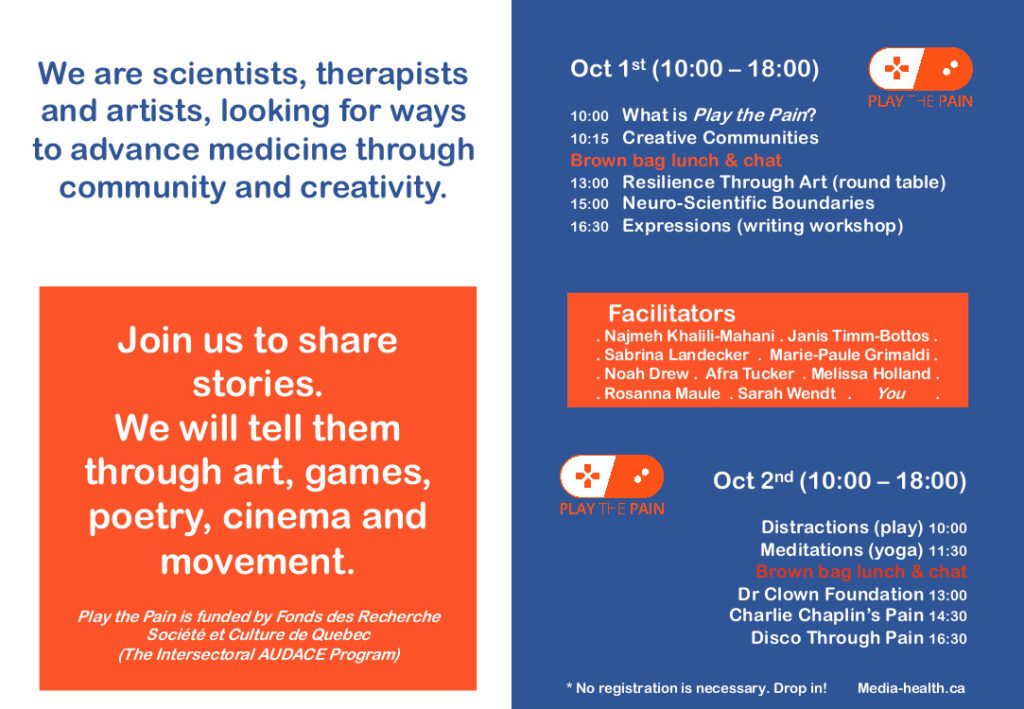 Mon atelier, en anglais, se tiendra le 1er octobre à 16h30:
Words that relate
In this creative and inclusive workshop, each person will be able to experience writing through exercises around the theme of pain – a literary creation engine par excellence. If we normally try to flee or heal the pain, can writing allow us to relate to what is hurting, to transform it, and to create different relations with ourselves as with others through this expression?
Entre ateliers et discussions, Play the Pain propose deux journées d'expérimentations communes et interactives les
1er et 2 octobre 2019 10h à 18h
4th Space – Université Concordia
1400 Maisonneuve Ouest
GRATUIT